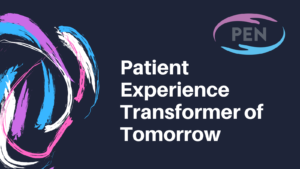 We are delighted to offer this fully funded award category in partnership with Liverpool John Moores University.

This category is open to post-registration/postgraduate students and includes projects where postgraduate students have systematically developed an evidence-based project or proposal whilst learning in university, on practice placement or within their local community. The emphasis should be on transforming practice and patient experience by effectively responding to an issue of concern to a particular group of patients or service users and using an evidence –base to propose or implement change.
The project should illustrate the positive impact post-registration/postgraduate students can have in transforming future patient and service user experience. Projects that have actually been implemented are particularly welcomed.
PENNA 20-21 Patient Experience Transformer of Tomorrow Winners, Runner Up and Finalists
| | | |
| --- | --- | --- |
| King's College London | Saleh Alessy – s variation in patients' experiences of cancer care associated with their subsequent survival | RUNNER UP |
| Tees Esk and Wear Valley NHS Foundation trust | Michael Curtis – Dementia friendly Village Project | WINNER |
PENNA2019 Patient Experience Transformer of Tomorrow Winners, Runner Up and Finalists
| | | |
| --- | --- | --- |
| University of Brighton | Ella Brunton and Krista Etchells | WINNER |
| Paediatric Assessment Unit, Shrewsbury and Telford Hospital NHS Trust | Claire Fenn | RUNNER UP and HIGHLY COMMENDED |
| Alder Hey Childrens Hospital NHS Trust | Helen Morley | |
| North West Ambulance Service | Paddy Ennis | |
| Childrens Unit, Whiston Hospital | Tracy McNeill | |
| Smithdown Childrens Walk-In Centre | Nicola Gourley | |
PENNA2018 Patient Experience Transformer of Tomorrow Winners, Runner Up and Finalists
| | | |
| --- | --- | --- |
| University Hospitals Plymouth NHS Trust | Kelly Whitehorn | Winner |
| University of Plymouth | Rebecca Baines | Runner Up |
| University of Plymouth | Toni | Runner Up |
| University of Dundee | Charlotte Scotland & Lynn Graham | Finalist |
| Teeside University | Kate Husband, Emma Hutchinson and Katherine Comac | Finalist |
| University Hospitals Plymouth NHS Trust | Kelly Whitehorn | Finalist |
PENNA2017 Patient Experience Transformer of Tomorrow Winners, Runner Up and Finalists
Dr Louca-Mai Brady, Research Associate & Independent Consultant – Kingston University
Rhetoric to Reality: Research on Embedding Young People's Participation in Health Services