Beads of Courage: Making a Difference for Each Child
Cambridgeshire Community Services NHS Trust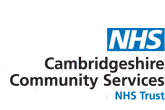 General Summary
The Beads of Courage programme was introduced to the UK, from America, through the paediatric oncology units. The beads are a concrete visual representation of each intervention a child has undergone during their treatment, helping them talk about their condition, fears and hopes. As a Community Children's Nursing team, the children and young people (CYP) we support with cancer started to receive the beads supplied to us by the Regional centre.
Mags Hirst, our play specialist, recognised the benefits of this scheme and was passionate about extending it locally to the many children we care for complex and life-limiting illnesses, but who do not have cancer. As the beads are not funded by the NHS, as a team we identified funding streams to ensure sustainability and to ensure local CYP could continue to benefit from these. The Beads provide them with a unique approach to personalising care by working in partnership with CYP and their families, enabling them to understand and talk about the impact of their condition and treatment on their daily lives.
The beads and the story they tell are unique to each child, their siblings and their families. The beads build a picture and a memory for each family that they can keep and reflect on. It gives credibility to their journey in a concrete and understandable way that can be used to explain to a child, when they are older, what had happened to them, or as memory for the family if their child is no longer with them.
We were the first team in the UK to introduce the beads for children and young people with a non- oncology diagnosis, and the celebration annually of the children and their beads is a spectacular, happy, exciting event. With the positive attitude and leadership demonstrated by Mags, a willingness to identify unique elements of each child's journey, and our ability to share a joint, team vision, keeping children and families at the centre of what we all do, we have been able to work together to truly benefit children. These benefits are achieved at the most challenging time in a family's life and through the most painful journeys they will ever have to face, providing a platform for them to express their own, unique stories and paths
Rationale
As a service we aim to provide individualised, compassionate care and believe that the Beads of Courage, in a small way, can give credibility to the child and their family of the challenges they face on an almost daily basis for, what is often, a lifetime.
The Beads of Courage embrace and celebrate each child's unique experience and personal journey with regards to their complex or life limiting condition.
The beads are a physical reminder of each child's personal story; their treatments, every hospital attendance, every visit by a community nurse, every intervention they have to have, and gives CYP the opportunity to build a visual representation of their personal journey, supporting their emotional, social and spiritual needs. The beads also provide a way to open and improve dialogue not only within families but with those around them, such as friends at school and other professionals who may not have the broad understanding of the challenges and achievements each CYP has on their journey
We also provide beads for siblings. These recognise the challenges siblings face with having a brother or sister who is unwell and who is often away from home. They also provide a way to celebrate and acknowledge the support siblings provide as carers and recognise the impact having a child with a life-limiting illness in the family can have on siblings, for example when parents are away from home with the poorly child or miss family and school activities.
Planning
Mags Hirst provided the leadership for introducing this innovation for children with life-limiting illnesses. She contacted the programme lead, and explored the use of the beads in a wider context. We were informed that the licence was available for CYP with life-limiting, non-oncological conditions and complex health issues. We then sourced initial funding and became the 1st team in the UK to provide the beads outside the oncology world.
We identified a pilot group of CYP already known to the team, and in partnership with the children and their parents, discussed if this was an innovation they would welcome. The feedback was incredibly positive with universal agreement that this was something to be rolled out and which would benefit their child, as well as the wider family and friends.
Our pilot consisted of 8 CYP and we provided families with Bead diaries to help us understand and evaluate the benefits of the beads in terms of family memories and recall, as well as the costs involved in providing the beads retrospectively to the point of diagnosis. Without exception, each family enrolled on to the pilot programme was able to comprehensively complete their child's diary, one family being able to recall 9 years of complex care.
Through our initial investment, Mags was able to purchase the beads required to commence the pilot and complete these CYP bead collections. Each family has reported back the positive benefits and the therapeutic value of threading the beads alongside their children. The therapeutic value reported included enabling families to remember and talk together about the detail of the treatments received, including the pain experienced and courage shown by the children and the great pride parents had in their child's ability to face these challenges.
Our electronic records incorporate a care plan which highlights the beads programme as an intervention in itself, so that we can ensure all children and their siblings, who are eligible for the beads, are considered for the programme and the beads offered
Impact
The positive impact of the beads cannot be emphasised enough. Children and young people now have a voice that they may not have had previously. They are able to discuss and articulate their own, individual, stories in words and language they understand. The children, and their families, are able to take their unique combination of beads to hospital and clinic appointments and express what has happened to them since they were previously seen.
The impact on professionals has been astounding, most have never contextualised what it means to be a child or young person with a complex or life limiting condition. To see the beads, threaded together, is a very humbling experience for both clinicians and non-clinicians and is a reminder of why we all work in the roles we do and that all of us are working together to ensure positive experiences of health care for our patients or client group
We wanted to give the CYP a voice, a way of talking through their experiences, fears and successes. We have evidence of a young girl who was selectively mute, as a result of her fears and worries due to her ill health. Using her beads as a platform to speak, she was able to explain to people what scared her and what she has endured and earlier this year she was supported by Mags to stand up in school assembly and talk about her journey
We are measuring the beads in terms of cost and report 1/4ly on this to our financial team and donors, to ensure effective and appropriate use and ongoing sustainability of the beads
The greatest measurement we have is qualitative from the feedback and engagement from the children and their families both in terms of engagement with the initiative, a positive expectation that the children will receive their beads from the nurses who visit them, the accumulation of retrospective beads for interventions by professionals outside of the team and increasing attendance at our annual tea party for children and families where we celebrate the immense courage and bravery the show each day.
Key Learning Points
 – Be open and honest when discussing the purpose of the beads with families and children before they start on the initiative
 – The reflection needed can be painful for families and this needs to be supported
 – The ongoing funding needs to be considered as this needs to be sustainable, families and children will discuss and compare, so there needs to be equal access
 – Storage, you will needs lots of storage!
Watch the Beads of Courage Presentation Here!