Long COVID Rehabilitation - a collaborative approach to development of service delivery
Oxford Health NHS Foundation Trust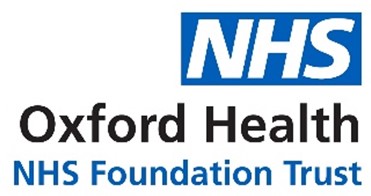 Contact: Emma Tucker - emma.tucker@oxfordhealth.nhs.uk
Organisation
Oxford Health NHS Foundation Trust is a community service serving the Oxfordshire population. The Post COVID service is a collaborative service with the local secondary care Trust, Oxford University Hospitals NHS Foundation Trust, and other third party organisations. The Post COVID service to date employs a total of 22 staff and has assessed and supported a total of 1500 patients diagnosed with Post COVID-19 condition.
General Summary
The primary aim was to develop and evaluate a new collaborative service, designed to meet the needs of patients with a complex and evolving syndrome, termed Long COVID. Initial guidance centred around the establishment of Post COVID assessment clinics, with NHSE funding provided. Locally in Oxfordshire the passion from leadership and previous expertise of rehabilitation, recognised that rehabilitation pathways needed to be essential in approach to the management of individuals with continuing symptoms and a collaborative pathway between the secondary and community care services was established. Continual reflection, listening to both clinicians and patients was fundamental in the development and delivery of the service, enabling both a team and pathway that put patients at the centre of all elements of delivery of care.
The major learning points gained for our team and development of this service that when boundaries of organisations, mode of delivery of care, passion and seamless working from leadership and ability to trial treatment approaches were utilised, a multi-disciplinary approach to managing long term conditions can truly be established that puts the patient at the heart of all conversations, pathway developments and is truly listened to.
Rationale
Post COVID Syndrome (Long COVID) was initially defined as the continuation of symptoms related to a COVID-like-illness after 12 weeks post onset (NICE Guidelines December 2020). It has evolved to now being recognised as Post COVID-19 condition and reflects the fluctuating and relapsing nature of the symptoms (WHO Delphi consensus October 2021). Most recent ONS prevalence data (June 2022) estimates that 3.1% of the UK population self-reports long COVID, with 72% of these reporting symptoms lasting more than 12 weeks, with a significant impact on daily functioning, employment, and quality of life.
Typically, those diagnosed with Post COVID-19 condition require support and guidance to manage their symptoms. National funding was provided in January 2021 to establish Post COVID Assessment Clinics. It was recognised early on that it was necessary to be able to offer ongoing rehabilitation as part of this pathway.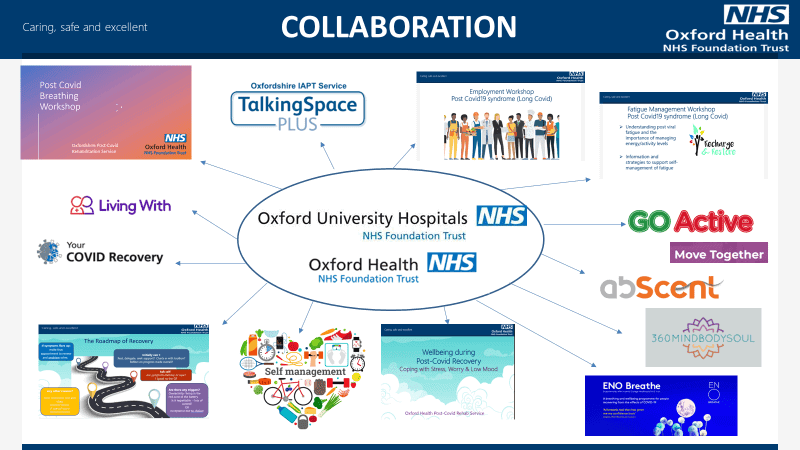 Planning
A collaboration of services and stakeholders evolved, facilitating the development of a service that was both large enough to meet the growing demands, but also fluid enough to grow and adapt to new research findings, listening and learning from clinical experience and most importantly responding to the patient voice.
In response to growing referral rates and waiting times virtual workshops were established to offer patients education and self-management strategies in breathlessness and fatigue, led by Respiratory and Fatigue Specialists. By August this had increased to also offering specific sessions supporting return to work and education around legal aspects and management tools to enable a successful return to work. In November we piloted our first 'Overcoming Obstacles and Maintaining Progress' course. This was developed and run collaboratively by Post COVID specialists with a CBT therapist, aimed at patients that struggle to utilise the self-management strategies effectively, and more recently included a Well-being workshop to introduce skills to aid management of psychological health affected by experiencing long COVID.
Digital applications were researched, and the team implemented the use of Living With COVID recovery. This app meets the needs of both clinicians and patients, offering a symptom tracking ability for patients, a communication platform, data collection and an easy to access resource library,
The team has developed strong links with external agencies including ENO Breathe, yoga communities and local Move Together initiatives.
Fortnightly MDT meetings were established to discuss and plan care for complex patients – with members from Rehabilitation Medicine, psychological therapies, respiratory and fatigue specialists.
Impact
The Post COVID rehabilitation service has provided a personalised, multi-professional and needs met approach to over 1000 patients in the 18 months. To achieve this, mode of delivery, expertise of clinician and expectations of patients are all variables that have adapted and continue to evolve to meet this need. In this delivery of rehabilitation, we have worked with local initiatives and charities, funded external companies to support and research concepts, and will continue to transform to meet both local and national requirements.
Patient feedback was recognised as being of great value within the service and has been reflected while evolving methods of service delivery. In Oxfordshire the I Want Great Care system is used to collate feedback. This was reviewed monthly, and changes and responses were made in a timely manner as reasonably possible.
Between January 2021 and June 2022 the service received 156 detailed narratives to assist in the service development. It was rated 4.84 out of 5 stars in this time period with 98.7% of patients reporting a positive experience.
Most common themes when asked 'what would you like to see improved?' included:
reduced waiting times,
ability to see medical professional,
joined up working,
education to GP's and wider teams regarding long COVID presentations.
The collaborative team of multidisciplinary professionals delivered webinars to GP's, Acute Trust Medical teams and Community Care colleagues to educate about the nature and presentation of this syndrome. The establishment of virtual workshops enabled patients to be seen and managed in a more timely manner, within a shared and mutual environment with other individuals in similar scenarios, enabling patients to understand 'they were not alone'.
Positive feedback received was beneficial for the well-being of our clinicians in the absence of established validated outcome measures in this population, demonstrating the quality of the care that we continue to deliver, with pressure to meet waiting list and patient demands. A summary of common words patients used to describe their experiences with the Oxfordshire Post COVID Rehabilitation Service is attached as additional supporting material.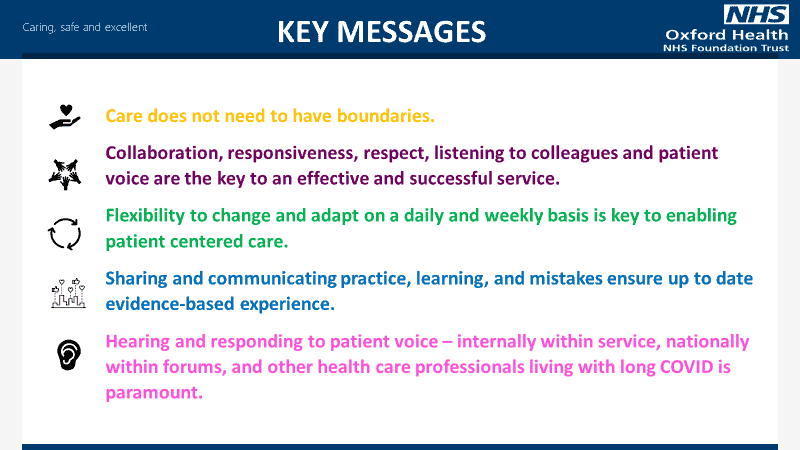 Standing Out
This initiative was different. We needed to respond quickly and evolve almost daily to the changing scenarios and feedback received. The service pathways and team were able to act without the boundaries of reporting KPI's and fixed service pathways – ensuring that the most appropriate and clinically effective care was delivered.
By rapidly evolving and moving with expectation and demand we have been able to establish a successful and respected multi-professional service that provides a model of service delivery to demonstrate how other conditions could be, and potentially should be, managed in the future.
The most recent NICE Guidance publication (December 2021), updated March 2022 titled: Managing the long-term effects of COVID-19, recommends a multidisciplinary approach to guide rehabilitation, including physical, psychological, and psychiatric aspects of management. In Oxfordshire we set out to achieve this and have been successfully delivering for 12 months. Our aim is to continue to deliver this whilst, maintaining clinician well-being, patient satisfaction and contributing to evidence based care.
The establishment of a collaborative and multi-disciplinary service from already established and overstretched services, demonstrates the ability to ensure that the needs of the patients are put first. Patient voice, feedback has shaped and evolved the service to ensure that it continues to meet the growing need and demand of this population. The service model and ability to listen and change, should be considered as pathways of excellence, ensuring that we manage all long term conditions in this manner.
Key Learning Points
Over the past 18 months many professions, and certainly our team, have learnt that care does not have boundaries. A collaborative, responsive and respectful approach, listening to each other and most importantly the patient voice, has enabled the development of an effective and successful service.
Collaboration between acute and community Trusts, services and specialties is key to creating a service that puts the patient at its core.
Changing and adapting on a weekly basis based on clinician and patient feedback is a priority in the absence of structured protocols and guidance.
Sharing practice through the use of online forums, webinars and use of social media is paramount to ensuring that patients receive the most up to date and evidence-based experience.
Hearing and responding to the patient voice, from both a patient within the service experiencing long COVID, to health care professionals living with Long COVID has enhanced and developed research. Many Oxfordshire patients are involved in local and national PPV groups, ensuring that service development continues to remain integrated and holistic.