MCHFT Surgical Ambulatory Care Unit
Mid Cheshire Hospitals NHS FT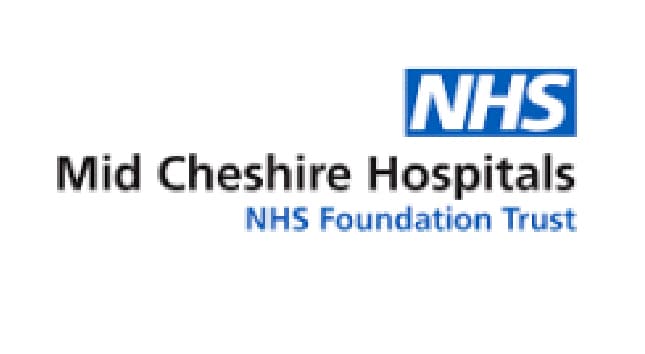 Contact: Helen Williamson - helen.williamson@mcht.nhs.uk
Organisation
Mid Cheshire Hospitals NHS Foundation Trust (MCHFT) provides good quality, safe and effective healthcare to the people of Cheshire and beyond. The Trust, which manages Leighton Hospital in Crewe, Victoria Infirmary in Northwich, and Elmhurst Intermediate Care Centre in Winsford, was established as an NHS Trust in April 1991 and became a Foundation Trust in April 2008.
It employs more than 4,500 members of staff, has around 540 hospital beds, and provides a range of services including A&E, maternity, outpatients, therapies, and children's health. The Trust is also part of Central Cheshire Integrated Care Partnership (CCICP), a new and unique local health partnership that provides a range of community health services for people across South Cheshire and Vale Royal. Significant investment in recent years has meant a great deal of clinical expansion has taken place at the Trust  and it can now boast about having some of the very best clinical facilities.
General Summary
The Surgical Ambulatory Care Unit (SACU) was introduced with the ambitious aim of radically challenging the traditional management of emergency surgical patients. This was in response to a number of issues:
• Rising numbers of emergency surgical admissions.
• Increased demand on the Emergency Department.
• Unnecessary overnight stays & prolonged length of stay.
• Negative impact on patient experience.
• Positive introduction of Ambulatory Care Service within Division of Medicine and Emergency Care.
In collaboration with National Surgical Ambulatory Emergency Care Network, Mid Cheshire Hospitals implemented a Surgical Ambulatory Care Unit based at Leighton Hospital. The SACU team was established, and the location tied in with the ward refurbishment programme which facilitated SACU to be co-located with the Surgical Admissions Unit. SACU is a same day emergency service for GP referred surgical patients providing rapid assessment, diagnosis and treatment in a timely manner
without admission to a hospital bed. This service was introduced to improve the experience of surgical patients, to avoid unnecessary waiting and delays and reduce unnecessary overnights stays. This in turn reduces the pressure on the emergency department and has cost saving benefits to the organisation in reductions in average length of stay and more timely discharges. The success of this project is a result of strong leadership and teamwork, with patient experience as a primary driver throughout. We have seen improvements in reported levels of patients experience and significant improvements in organisational measures such as reductions in length of stay. By reviewing current practice and thinking innovatively about how we can do things differently to improve patient experience, the team have successfully implemented a project which offers real sustainable benefits.
Rationale
The aim was to establish a Surgical Ambulatory Emergency Care Unit within the Trust. Participation in the first cohort of the National Surgical Ambulatory Emergency Care Network was of paramount importance to the project, raising the profile at both a local and national level. The overarching aim was to provide high quality emergency care that can be managed safely and appropriately the same day without admission to a hospital bed. The original scope of the project was to reduce the number of hospital overnight stays for emergency general surgical patients by providing early access to diagnostics and senior review. The development of the unit would help reduce avoidable admissions, reduce length of stay and allow earlier access to definitive treatment thereby improving overall patient experience.
1. To reduce the number of emergency surgery admissions.
• 1a. 70% of patients to be discharged home the same day
• 1b. 30% surgical take Monday-Friday goes to SACU
• 1c. 30 day readmission rates for patients discharged directly from SACU to be less than 8.5%
• 1d. 7 day readmission rates for patients discharged directly from SACU to be less than 4.0%
2. To reduce the number of overnight stays of emergency patients.
• 2a. Length of stay on SACU to remain under 8 hours
• 2b. Length of stay for emergency general surgery patients to be reduced
• 2c. To reduce surgical bed days to achieve a bed day saving for emergency general surgery patients
3. All patients on SACU will receive a clinical review by a senior decision maker.
• 3a. 85% of patients attending SACU will receive their first senior review within 4 hours
• 3b. 75% of patients attending SACU will receive their first senior review within 2 hours
4. To improve patient experience for all general surgical emergency patients.
• 4a. 90% of patients are likely to recommend the Surgical Ambulatory Care Unit
Planning
MCHFT was successful in joining the first cohort of the Surgical Ambulatory Emergency Care Network which facilitated shared learning with eleven other Trusts from across the country and provided support throughout the year with local and national workshops, conference calls and visits to the Trust.
A Project Team was established within the Trust comprising of :
DGM Dan Moore/Mark Wilde,
Associate Medical Director Mr David Corless,
Divisional Head of Nursing Sally Mann,
Clinical Lead for SACU Mr Ali Kazem,
Matron/Project Lead, Helen Williamson,
Project Manager Claire Hopley,
ANPs, Nikki Blake & Misti Ollier,
Ward Manager, Claire Warren,
Service Manager, Suzanne Findler,
Emergency Theatres, Ian Woodall & Michelle Nield,
Consultant Anaesthetist, Claire Hammell,
Data Analyst, Karl Booth.
Additional support and collaborative working with SAU/SACU nursing & clerical staff, Radiology & Pathology departments, Patient Experience Team, IT team, Site management & patient placement teams, ED nursing & medical staff and GP's and community partners.
Initiatives introduced:
• Advanced Nurse Practitioners (ANP) receive GP telephone referrals
• Timed appointment slots
• Urgent turnaround times for blood tests
• Dedicated ultrasound scan slots
• Ambulatory pathway for CT/MRI scans
• Virtual ward managed by ANPs
• Senior review by Consultant Surgeon
• Patient Experience Survey implemented to monitor patient feedback
• Development and expansion of the ANP Role
• Development of flow coordinator role
• Introduction of integrated care pathway and development of patient information leaflet
• Away day team meetings to shape the vision of the service, including experience based design
Impact
Three groups of patients were identified: pre-SACU (April 2015 to August 2016), SACU (September 2016 to August 2017) and SACU with dedicated surgeon (September 2017 to May 2018). There was 104.5% percentage increase in same day discharge rate for emergency GP referrals (22% pre-SACU to 45% in the dedicated surgeon group). Similarly, same day discharge for all emergency referrals
increased from 17% pre-SACU to 29% in the dedicated surgeon group (70.6% percentage increase).
There was 25.88 hours reduction in the mean length of stay for emergency GP admissions (92.95 hours pre-SACU to 67.07 hours in the dedicated surgeon group). In pre-SACU group mean length of stay for all emergency admissions was 125 hours, this dropped to 107.09 hours in the dedicated surgeon group (18.6 hours reduction). This resulted in 102 hospital bed stays saved every month since the opening of SACU. Establishing an emergency surgical ambulatory service has reduced length of stay and saved significant hospital bed stays by increasing same day discharge. This effect was enhanced by having a dedicated senior surgeon providing early input and decision making.
Additionally, the patient experience feedback indicated that patients felt positively about their experiences in SACU:
o 70% of patients worried prior to arrival, reduced to 6% following initial assessment on SACU.
o 100% of responses to First Impressions of SACU were very positive.
o Compliments were received to all grades of staff.
Relevance to Others
Surgical Ambulatory Care is relevant to all acute hospital trusts due to the positive impact it can achieve on its emergency surgical service. Both the pitfalls and achievements have already been shared through the National Surgical Ambulatory Emergency Care, sharing good practice with other Trusts involved in the SAEC Network. The implementation of this service offers huge benefits both internally to relieve pressures on other services, and also to the patient. Patient experience is fundamentally important, and SACU offers patients a more streamlined service with timely access to scans and investigations, and reductions in waiting.
Standing Out
The Surgical Ambulatory Care Unit is an example of multidisciplinary working at it's very best involving a diverse group of staff from across all disciplines of the organisation. It is the enthusiasm and forward thinking nature of the team that has helped push the boundaries of how we manage our emergency general surgical patients, establishing a unit which has been well received by patients, alleviated
pressure on the Emergency Department and reduced the overall length of stay for all patients admitted under the emergency general surgical umbrella. This is a compelling example of how a project team can work together to achieve real tangible improvement for patients. This project has demonstrated proven measurable success. In order to meet the growing demand of the population we serve, we have redesigned and reorganised a service and in doing so have improved patient
experience whilst delivering cost benefits to the organisation. At the heart of this initiative is patient experience. Patient feedback has been sought regularly to evaluative the experience from the patients' perspective and many small and large scale changes have been implemented as a direct result of listening to patients.
Key Learning
o Capture data and patient experience prior to launching the new service in order to establish the true impact from the patient perspective.
o Identification of Advanced Nurse Practitioners and Consultant Surgeons who are able to drive the project forward & maintain the day to day flow.
o Multidisciplinary engagement including pathology, radiology, emergency department and operating theatres to facilitate streamlined processes.
o Engagement with the CCG and GP Practices to gain understanding of how the service can complement & support Primary Healthcare.
o Identification of a dedicated area for the Surgical Ambulatory Care Unit which cannot be utilised as an escalation area for bedded patients.
Watch the Presentation Here!