The Chief Nurse Excellence in Care Fellowship Programme
Nottingham University Hospitals NHS Trust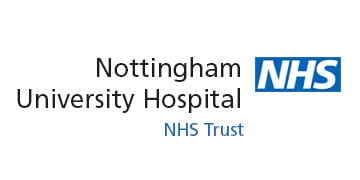 Contact: Louise Bramley - louise.bramley@nuh.nhs.uk
Organisation
Nottingham University Hospitals NHS Trust (NUH) is an aspiring American Nurses Credentialing Centre (ANCC) Magnet® organisation providing high quality and safe clinical services, and excellent staff experience. We are one of the largest Trusts in the UK and one of the largest employers in the region, employing around 15,000 people at QMC, Nottingham City Hospital and Ropewalk House. We are based in the heart of Nottingham, providing services to over 2.5 million residents of Nottingham and its surrounding communities. We also provide specialist services for a further 3-4 million people from across the region. Our portfolio of activities range across 90 clinical ward areas, approximately 1,700 beds and day-case ambulatory and midwifery community services.
General Summary
The Chief Nurse Excellence in Care Fellowship (CNEF) is an innovative initiative that has shown to empower junior front-line nurses, midwives and operating department practitioners to make significant impacts on patient care through quality improvements projects, whilst gaining academic experience and leadership skills. This initiative is designed specifically to retain talented staff as well as allow them to experience the early stages of a clinical academic career pathway. Informed by our consultation with over 5000 nurses, midwives and ODPs, an initial pilot cohort of six frontline junior nurses was commenced.
The model ensures frontline staff continue to work in clinical practice, with one day per week over a year to undertake a bespoke training programme with support of a clinical and academic mentor. A further three cohorts have since been recruited, totalling 22 CNEFs. It is now being adopted within midwifery and AHP communities at NUH and within 4 Trusts within England. Outcomes of the initiative are consistently three-fold. Individual quality improvement projects, which were diverse and across a range of specialties showed significant impact on patient care and outcomes. In addition, all participants were retained within the organisation and also reported gaining valuable leadership and academic skills.
Rationale
There is an internationally recognised shortage of registered nurses and NHS staff across groups, and therefore recruitment, retention and development of current NHS staff is vital in addressing this issue. Nursing workforce deficits have been linked directly to poorer patient outcomes and staff experience. Measures to address these workforce challenges have been identified as a national and local priority. As part of our commitment to retaining staff at NUH, this initiative was developed as an innovative and direct response to this challenge, providing a flexible and innovative workforce solution and role that provides opportunities for clinical and academic development. While focused predominantly on nursing roles, its model is inclusive of other groups where local organisations wish to focus their recruitment and retention activity.
Band 5 nurses are over 53% of the nursing workforce at NUH and extensive staff engagement through doctoral research and staff consultations identified that an in-house, locally driven 'foundational level' development opportunity was required. Staff consistently reported a desire to remain in clinical practice yet with early career opportunities for insight, exposure and skill development in evidence-based practice, project management, and the opportunity to experience the challenges and opportunities of innovation in today's NHS. The Chief Nurse Excellence in Care Junior Fellowship initiative was established and commenced in 2016, using competitive application, bespoke mentorship and development support and utilising the areas of innovation identified at local level.
Planning
Following consultation with over 5000 nurses, midwives and ODPS the design and implementation of the initiative comprises two main components.
Component one is a bespoke individual development programme. This was designed to respond to direct feedback from staff who requested a more personalised development approach, with one to one coaching offering greater opportunity to effectively develop individual strengths and talents. This included clinical and transformational leadership and mentorship, knowledge exchange, patient and public engagement, evidence-based practice, clinical academic/practice development and quality improvement methodology training.
Component two is a quality/practice improvement activity, designed and undertaken by the CNEF that focuses on an area pertinent to their practice and that aligned to organisational and nursingspecific strategic objectives. Introduction of the initiative was approved at organisational board level and a partnership approach between corporate nursing and divisional nursing leads was taken to recruit frontline junior nursing and ODP staff in line with HR policy and procedure. Each CNEF receives a bespoke training programme to underpin and support their personal development and quality improvement project. They are assigned one day per week for a minimum of 1 year alongside their clinical role, with monthly clinical and academic support meetings to review personal and development project plans. During the year they have quarterly meetings with the Chief Nurse and also gain exposure to other senior leaders, both locally and nationally from the NHS. Chief Nurse Excellence Fellows also work with patient and public groups at NUH to enhance the quality of their projects and ensure they are relevant to the patients for whom they are caring.
To ensure sustainability, the initiative was resourced by the reallocation of staff vacancy funding within each of the five clinical divisions across the Trust (Medicine, Surgery, Clinical Support, Cancer and associated Specialities and Family Health.
Impact
Impact from the initiative has been two-fold. Firstly, frontline nurses who undertake the programmes are given an opportunity to evaluate the year and the experience they have had via an online survey feedback form. All individuals who have subsequently been involved in the programme report positive impact on their personal and professional development and overall satisfaction at work. Specific feedback from CNEF's includes:
"These roles allow individuals to explore opportunities, evoke change, work with the wider team and uncover their own unique approach to nursing"
"The Chief Nurse Excellence in Care Junior Fellows has given me opportunities I would never have had to meet Directors/Matrons of Nursing within NUH and receive their mentorship, support and advice. These opportunities have helped me to develop my work network within [trust] and my own leadership skills and I feel the past 6 months to be the highlight of my career so far".
Secondly, the individual quality improvement projects undertaken by the CNEFs have also had positive impacts on patient outcomes and staff satisfaction. This has been measured by individual projects using audit and feedback cycles and plan do study act (PDSA) cycles using both qualitative and quantitative data. Two case study examples of this are provided as supporting documents to this application. The entire original pilot cohort of CNEFs has been retained in the organisation, with many of them moving into junior leadership positions. Since the initiative started, there have been a total of 22 CNEFs who are undertaking or completed the programme.
Relevance to Others
Since the first pilot cohort of CNEFs, the initiative goes from strength to strength, with new fellows being recruited across all clinical divisions within the trust. As the numbers of CNEFs undertaking the initiative grows, there is on-going appetite amongst professional groups in the trust, with applications for each post flourishing in numbers. Through undertaking the initiative, nurses were exposed to the broader context of leadership within the NHS, networking with other departments (e.g. finance, Information and Communication Technology, Human Resources), and clarifying career aspirations through experiential learning and exposure to the career pathways of others.
This success in developing talented individuals has resulted in the wider adoption of these posts by other senior divisional leaders across the organisation as well as interest in modelling the fellowships outside of nursing into other professional groups and NHS Trusts. Formal evaluations of these roles unanimously confirmed the positive response to front-line, junior clinical nurse and ODP development and were described as, 'totally inspirational'. After being a CNEF, individuals report being able to support and mentor newly appointed CNEFs so that the project can be sustained and grow. This allows for the initiative to upscale offering opportunities to more individuals going forward.
Standing Out
Our experience has shown that this is a relevant, achievable and sustainable initiative that meets the expectations of our contemporary nursing and wider NHS workforce. It is a unique opportunity for nurses, midwives and ODPs who work on the frontline to engage with their colleagues and the wider workforce to develop as clinicians, engage in high quality improvement projects and impact directly on patients and staff satisfaction. Although it is commonplace for Medical staff to undertake clinical academic roles, to our knowledge, this is the first initiative of its kind to be implemented for nurse that encourages frontline clinical practice alongside quality improvement and a bespoke personal development programme. Allowing staff to experience aspects of clinical academic roles as part of a strategic talent-management approach has proved successful in developing talented individuals. It has also been an opportunity for those individuals to gain the requisite skills in evidence-based practice, improvement science methodologies and change management.
Key Learning Points
Front-line nurses and NHS staff with bespoke support and mentorship can innovate to improve quality of care.
Innovative initiatives, like the Chief Nurse Excellence in Care Junior Fellow Initiative, provide opportunities to structurally empower, upskill and enable front-line nurses to embark on the first steps of a clinical academic career pathway.
Relevant, achievable and sustainable initiatives that meet the expectations of our contemporary nursing workforce are required to enhance recruitment and retention.
Innovating and modelling clinical academic career leadership as part of the Chief Nurse Excellence in Care Junior Fellow Initiative has been instrumental in encouraging senior leaders to realise the value and impact of supporting front-line nurses to undertake this career pathway.
Watch the Presentation Here!