Carer2Theatre - Improving the Theatre Experience for Confused Adult Patients
Nottingham University Hospitals NHS Trust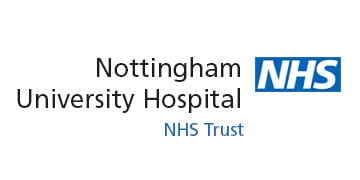 Contact: Glenn Alexander - glenn.alexander@nuh.nhs.uk
Organisation
Nottingham University Hospitals NHS Trust. Formed in 2006, we are now one of the biggest and busiest acute Trusts in England, employing 14,500 staff. We provide services to over 2.5 million residents in Nottingham and its surrounding communities. We also provide specialist services to a further 3-4 million people from neighbouring counties each year. We have achieved a national and international reputation for many of our specialist services, including stroke, renal, neurosciences, cancer services and trauma. QMC is home to the Nottingham Children's Hospital. The Trust has an annual income of £824 million, 87 wards and circa 1,700 beds.
General Summary
Our innovative project 'Carer2Theatre' aimed to improve the theatre experience of confused adult patients. To achieve this we proposed that all confused adults within our care should have the opportunity to be accompanied to the theatre anaesthetic room by a carer or relative pre-surgery and theatre recovery post-surgery.
The national dementia strategy highlights the need to improve care for people with dementia in hospital. Family carers are the most important resource available to people with dementia. 'Carer2theatre' supports families and patients who fall into this category. We hoped that this project would lead to a better emotional environment by providing a known reassuring face in an unfamiliar and confusing environment. This would benefit both the patient personally and the theatre team professionally. We believed we would achieve an increase patient cooperation whilst also improving communication between the patient, relative and theatre team whereby questions could be asked by the relative both pre and post-surgery.
The project was planned by a multi-disciplinary team including Orthopaedic Wards, Orthopaedic Theatres, Theatre Recovery and Anaesthesia. The trial period for the initiative has been completed and the review of feedback is underway. We hope to make this permanent standard practice across all surgical specialities.
Rationale
Whilst considering the adult pathway, we acknowledged that we were not delivering care tailored to the individual's needs. Confused adult patients (those with dementia, Alzheimer's, mental health issues and learning disabilities) attended theatre without a much-needed support network. This gave potential for an increase in patient distress and behavioural issues. This distress can at times impact on the efficiency of the service provided. Our aim was to be open and honest regarding the care that we deliver by welcoming carers and relatives of confused adults into our work environment. Our hope was that the presence of a familiar face would reduce anxiety, increase patient cooperation and lead to better communication between the clinician, patient and relative. We believed that this would lead to a safer and calmer experience for our confused adult patients. There is research evidence that people with dementia often retain emotional memory much longer than memory of things and events.
We felt that even if our patients could not recall the events that occurred in theatre, they were likely to recall how they felt, and that was something we could make better.
Planning
Initially we formally surveyed the trauma orthopaedic consultant anaesthetists. We sought their views on the potential benefits and risks of introducing this project to patients, relatives and the teams involved. The overwhelming consensus was that care and communication would improve if a carer or relative was present. This gave confidence that the project had merit. Some minor concerns were raised regarding personnel involved and this led to changes to the planned process. The core planning team was assembled which included orthopaedic wards, orthopaedic theatres and theatre recovery. We planned, risk assessed and evaluated a fluid patient journey with the carer/relative coming from the ward, to theatre, through to recovery and then back to the ward. This cross-team working was instrumental in ensuring that improvements in one area were not made to the detriment of the service in other areas, e.g. by avoiding any extra burden placed on other teams in terms of staffing or resources.
We sought advice from various sources. This included a project that piloted open ward visiting at our trust, which in effect had a similar goal to our project. A trauma
anaesthetist and professor of perioperative medicine advised on independently evaluating the project. We involved the head of patient and public involvement for our trust. We ensured that there was not only focus on the duty of care to the patient but also to the relative attending.
Reassurance was given that our plans would provide an improvement to this group of patients whilst providing a duty of care to the relative at all times. Independent research evaluation was planned and conducted by a medical student with formal observations and interviews with patients, relatives and staff involved.
Impact
There were a number of unexpected improvements made as a consequence of planning this project. These included having dedicated theatre recovery bays for vulnerable adult patients. These bays are larger which allows relatives to be escorted to theatre recovery sooner. Dedicated dementia aids have been implemented into all recovery bays whilst ensuring that the patient 'About Me' document comes with the patient allowing theatre recovery to assess the patient post-op compared to pre-op. Around the same time relatives were invited to the post-take ward round after admission, in order that carers/relatives may get to meet the orthopaedic consultants and ask questions if needed. During the trial, direct observations and comparisons of patients 'with' and 'without' relatives were taken from within the anaesthetic room. Extensive verbal feedback was collected from carers, anaesthetists, theatre team members, recovery and ward staff who were asked to comment on their perceptions of the initiative. This project has been difficult to measure from a quantitative perspective but undoubtedly is a quality intervention.
A sample of feedback from an anaesthetic colleague below: "As a principle, I think that this is something that we should aspire to offer to all elderly patients coming to theatre. It may slow the process slightly but in this case certainly added to the perception of "quality care" that we all aspire to. Whatever metric is employed to measure this intervention, the perception of quality care noted by the patient's carer is I think very important."
More importantly, a sample of feedback from a carer who attended the theatres with a patient: Daughter stated "it would be nice for everyone not just confused adult patients. It gave me reassurance that my mother was in good hands. It sped up the efficiency of administered anaesthesia……. nice for a familiar face to be there" She would summarise it as "perfect, worked very well and said she would recommend it to anyone".
Relevance to Others
We believe this project could be easily replicated throughout the NHS. Paediatric patients being accompanied to theatre was campaigned for in the 1960's, however this was never systematically extended to vulnerable adults. The future success of this project relies heavily upon further communication with relatives and staff regarding this project throughout the trust. Ensuring that staff are communicating this opportunity to relatives from the moment they enter hospital will drive further interaction and increase the number of patients that could benefit from this initiative. This will ensure that this becomes 'standard care' for confused adult patients and not just a trial which offers short-term improvement for this patient group. It has been suggested that we could look at opening the criteria to include all elderly patients and not just confused adults. A sizeable percentage of patients treated within trauma orthopaedic theatres are within their last 1000 days of life with some never leaving hospital post- surgery. We are considering whether this initiative would have benefits for other vulnerable groups.
Standing Out
The ambition of this project lay in challenging a historical way of working by highlighting and improving the experience of a group of patients who had not previously been considered in terms of their individual needs. As patients suffering with dementia, Alzheimer's, mental health needs and learning disabilities may not always be able to give clear concise feedback on the service that we are offering, we wanted to try and understand and examine the service from their point of view. The desire to improve the standards of care that these patients receive has driven this project. Although the proposal may seem fairly simple on the face of it, the change in working impacted many different departments.
The success of this project has relied primarily on successful communication between all concerned parties. By recognising that the patient journey does not start and end in one department, but rather is fluid across many, we sought to engage all concerned departments to ensure the success of the project. The buy-in and determination of colleagues across the Trust to improve this aspect of the patient journey has driven the project from the outset. By working closely with other colleagues across the Trust, we have not only successfully implemented this project trial, but have also created links and working relationships which we can build on for future development. The initiative is cost-neutral but relies heavily on the engagement of all departments involved. Fundamentally, this project is about improving the quality of care of older people with cognitive impairment in a surgical setting. A lot of work has been done within the medical and social care setting, but as the population ages it is vital that we get care right for these people wherever they are cared for.
Key Learning Points
When planning and describing the project to staff members the resounding feedback that we have had is 'why are we not doing this already or why have we never done this before?'. This highlights the importance of reflecting on and challenging current ways of working to strive to improve services.
It is important to fully consider who will be affected by a proposed initiative to ensure effective communication with all involved colleagues/departments. This helps to achieve buy-in to ideas but also enables any concerns/potential barriers to be addressed from the outset of a project.
An important realisation during this project was that making changes in one area of a patient's experience can have impacts on the other departments involved in care which may not be immediately obvious.
It is equally vital to consider how you are going to measure the success of the project at the planning stage to ensure that you implement any data collection strategies from the beginning.
Watch the Presentation Here!