#RehabLegend
University Hospitals Plymouth NHS Trust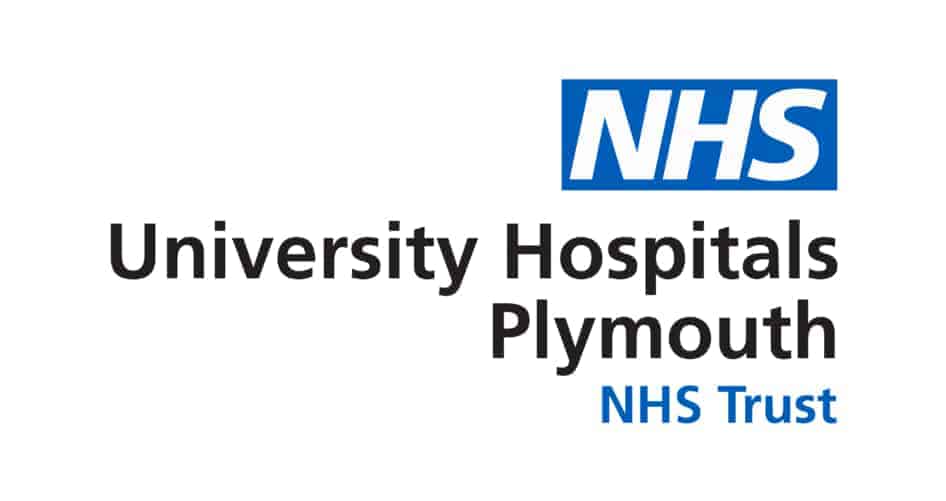 Contact: Kate Tantam via megan.flower@nhs.net
Organisation
University Hospitals Plymouth (UHP) NHS Trust is the largest hospital in the South West Peninsula, providing comprehensive secondary and tertiary healthcare and we are the region's Major Trauma Centre. We offer a full range of general hospital services to around 450,000 people in Plymouth, North and East Cornwall and South and West Devon, including maternity services, paediatrics and a full range of diagnostic, medical and surgical sub-specialties.
The population is characterised by its diversity –the rural and the urban, the wealthy and pockets of deprivation, and wide variance in health and life expectancy. Population ageing is a recognised national trend, but is exacerbated locally by the drift of younger people out of the area and older people in. The proportion of our population aged 85 or over is growing ahead of the national average by approximately 10 years, giving Plymouth the opportunity to innovate on behalf the
nation in services for the elderly.
The Trust has an integrated Ministry of Defence Hospital Unit which has a staff of approximately 250 military personnel who work within a variety of posts from lead doctors to trainee medical assistants. The Trust is developing rapidly as a centre for research in partnership with the Peninsula College of Medicine and Dentistry and Plymouth and Exeter Universities. We provide services for patients at the following main sites as well as through clinics provided at other local hospitals and care centres:
Derriford Hospital
More than 48,000 people pass through the main entrance of Derriford in a week. The hospital has more than 900 beds and 1,000 public car parking spaces. Derriford Hospital is the second largest bus terminal in Plymouth, beaten to first place only by Plymouth central bus station.
Plymouth Dialysis Unit
This purpose-built unit opened in August 2011 and provides outpatient haemodialysis, education and dialysis training to patients with advanced renal failure who are living in Plymouth, East Cornwall, North and South Devon. It also offers holiday haemodialysis to visitors to the South West.
Child Development Centre
Developmental services for young children are provided at the Child Development Centre, Scott Business Park with close partnership working between University Hospitals Plymouth NHS Trust, Livewell Southwest and Plymouth City Council.
UHP has one of the busiest Critical Care Units in the country admitting over 1,500 patients every year (cardiac patients taking this up to 3,000).
General Summary
THIS PROJECT WAS THE OVERALL PENNA 2019 WINNER
The '#RehabLegend' campaign sees a new person each day awarded with '#RehabLegend' status. This includes Intensive Care Unit (ICU) survivors, their loved ones and anyone who actively supports rehabilitation in ICU. This simple message promotes rehabilitation among staff who are not in traditional caring roles.
The use of #RehabLegend on social media, #RehabLegend badges and lightboxes makes it an accessible campaign for anyone to contribute and raise awareness of the importance of rehabilitation in ICU.
Rehabilitation in ICU has been associated with improved functional outcomes and reduced length of stay. Continued pressures to reduce length of stay in Critical Care and a frequent shortage of beds means it is increasingly important to identify patients at high risk of re-admission.
#RehabLegend has been used to shape, share and facilitate cultural change within the team and organisation, nationally and internationally. Specialist Sister in ICU, Kate Tantam has worked tirelessly to promote the #RehabLegend ethos and seizes every opportunity to highlight teams and individuals who assist with or promote rehabilitation.
Since the launch of the campaign, #RehabLegend has had 17,000 tweets, 40.2million impressions, 4,000 users tweeting and 6,000 badges awarded. All of this has helped raised the profile of rehabilitation within Critical care.
Rationale
Post Intensive Care syndrome is the name for a collection of symptoms
found in patients after critical illness. These include psychological (PTSD, Anxiety Depression), cognitive cognitive (memory loss, inattention) and physical health problems (walking, swallowing, breathing problems).
These issues make recovery after critical illness very challenging and there is a significant impact on quality of life. This population therefore require specialist rehabilitation interventions and an inter-professional team approach.
Kate is fiercely passionate about her work and is dedicated to improving rehabilitation and recovery for survivors of critical illness.
She was inspired after hearing a patient story that moved her to tears. Kate then undertook an 18- month audit which showed that 30% of ICU patients develop symptoms of Post-Traumatic Stress Disorder which can cause flashbacks and recurring nightmares. Kate then advocated for service development to meet the need her research identified. Her energy ultimately led to the recruitment of a dedicated Critical Care Rehabilitation Team. Kate's work has introduced new roles, improved patient care, and taken the Critical Care team with her on the journey increasing skills and knowledge. She remains at the centre of this innovation and brings it to
her role as a clinical educator, inspiring nursing staff to understand the importance of delirium identification and prevention.
Before this, patients were reporting signs of ICU related PTSD but UHP had no formal support service. Kate and the team are making huge changes in the culture of rehabilitation. Outcomes at University Hospitals Plymouth (UHP) are measured clinically in measures such as length of stay in ICU, length of stay and the verbal feedback of patients, staff and their loved ones.
This work inspired the #RehabLegend campaign.
Planning
Following the audit, Kate wanted to do some work on early rehabilitation and measure the results. Kate's Masters in clinical research focused on post-traumatic stress disorder. Her innovation ultimately helped develop a culture in critical care of understanding more about the ICU survivors' population, recognising the often on-going impact psychologically, physically and cognitively for patients.
The Critical Care Rehabilitation Team is currently made up of a Specialist Physiotherapist, two Physiotherapy Assistants, a Clinical Psychologist, a data analyst, expert Information Visualisation input from Plymouth University and students from the Clinical Psychology department and the school of computing. The team have developed a toolbox of #RehabLegend resources available online to support rehabilitation in the NHS, including the use of Patient Diaries, a proven
effective intervention for patients and families, enabling them to process the complex and distressing experience of critical illness.
The team are actively writing up projects and are tackling the issues faced by patients after ICU by regional study events, in partnership with the University, South West critical care network, BACCN and the trust. Their success is thanks to
their enthusiasm and use of patient experience to embed and share clinical understanding and its impact in recovery.
To promote the work of the team and empower patients, Kate initially bought 50 #RehabLegend badges, unsure of what the response and success would be. The campaign grew organically from there. With a fantastic initiative and Kate's driving force behind it, 6,000 badges have now been handed out and the campaign has had global reach.
Impact
The campaign gives an outward recognition to patients that the hard work they have put into their recovery has not gone unnoticed. This has the compounding impact of empowering them and motivating patients to continue dedicating themselves to getting better. Providing them with this motivation gives them a sense of control over their own recovery and places them at the centre of their care. It has been noted that patients who are more motivated to recover are likely to spend less time in hospital, thus positively impacting the cost of their care.
This campaign also serves to support staff and loved ones. Through presenting staff with badges and lightboxes, it gives notice to the time and dedication staff put into their patients. When staff feel appreciated and valued it reduces the rate of burnout and increases motivation for them to continue doing the wonderful job they do. This has a looping effect on patient care as increased appreciation encourages staff to consider ways to look after patients that are not always conventional.
Since the launch of the #RehabLegend Campaign in June 2018, #RehabLegend has had 17,000 tweets, 40.2million impressions, 4,000 users tweeting and 6,000 badges awarded. All of this has helped raised the profile of rehabilitation within Critical care.
It has impacted people from many different backgrounds and shown the importance interdisciplinary teamwork in recovery for intensive care, the effects of Animal Assisted Therapy and the pure commitment and kind-heartedness that all staff in Critical Care have to do the job they do.
Relevance to Others
Kate has successfully integrated her research and the work of the Rehabilitation Team into the delivery of a number of training and education events, locally and regionally. The team have taken part in initiatives such as a recent Fab Change Week, widening the skills, knowledge and experience of the ICU staff team.
In the longer term, the Rehabilitation Team aims to contribute to the research and evidence base for recovery from critical illness. Kate's innovation has had a ripple effect and has opened up conversations about the psychological health and wellbeing of not only patients but also family members and staff. Kate's innovative approach has led to a shift in the culture of the ICU, developing services and the learning of the staff team.
The team celebrate their patients' achievements and champion colleagues in all areas of the Trust, delivering badges and light boxes which serve as a gesture of gratitude, encouragement and are a small resource that have made a significant difference. The campaign has grown beyond expectations and Kate's passion which is shared with her colleagues locally and internationally has demonstrated the success of #RehabLegend and the understanding of the importance of the ethos
behind it will only continue to grow.
Kate is now working on plans to implement 'Rehab Champions' in ICUs across the country so that other hospitals can have ownership of their #RehabLegend journeys and stories.
"Every year 170,000 people are admitted into Intensive Care in the UK. 75% of survivors are left with physical, cognitive and/or psychological impairments, collectively referred to as Post Intensive Care Syndrome.
UHP has one of the busiest Critical Care Units in the country admitting over 1,500 patients every year (cardiac patients taking this up to 3,000).
Rehabilitation in Critical Care has been associated with improved functional outcomes and reduced length of stay. There are continued pressures to reduce length of stay in Critical Care and a frequent  shortage of beds; therefore it is increasingly important to identify patients at high risk of re – admission.
Kate's tireless effort has resulted in her work being recognised and shared internationally. She has harnessed the power of social media, resulting in an international campaign. She has had requests for #RehabLegend light boxes from hospitals in Switzerland, France and Australia.
Kate presented data at the fifth European Conference on Weaning & Rehabilitation in Critically Ill Patients and at the Annual John Hopkins Critical Care Rehabilitation Conference in Baltimore, which is home to the biggest rehabilitation centre in America and the State of the Art meeting for the Intensive Care Society meeting.
Kate has organised three conference study events in partnership with the British Association of Critical Care Nurses, Plymouth University, The Peninsula Trauma Network and the South West Critical Care network. All of these events have had patients present and patient stories embedded in the conference. Each event had over 150 attendees.
Standing Out
Standing Out
#RehabLegend uses a multi-disciplinary approach to promoting rehabilitation in ICU. Anyone can be a #Rehablegend.
This encourages staff, patients and their families to be actively involved in rehabilitation in any capacity. The hashtag is short and catchy which makes it easy to remember and the message is both light-hearted and at the same time, empowering which adds to the inclusivity of its use.
Culture has shifted so seismically at UHP that the ICU have been able to introduce a Pets as Therapy initiative. 'Hovis' the Labradoodle, is the only dog in the UK who is officially a rehabilitation team member as well as acting in his 'Pets as Therapy' role. Hovis even has his own Twitter account run by his owner, Moira to help promote #RehabLegend. Hovis is key in promoting physical and psychological rehabilitation and adds another dimension to the #RehabLegend message.
Key Learning Points
We have found that the patient stories our survivors and their loved ones give us are the key to unlocking the cultural change we are seeing clinically.
#RehabLegend also offers the healthcare community the opportunity to innovate and share best practice
The growth of this campaign and the associated benefits to patients has happened over time thanks to a lot of hardwork and dedication. The increased awareness of the importance of rehabilitation in intensive care has had a knock-on effect in other areas. For example, the introduction of a rehabilitation garden for patients. Real estate at Derriford Hospital, particularly outdoor space, is near impossible to come by. Despite this, Kate identified an outdoor space which was overgrown and unusable in its current state. With a clear vision, determination, and a lot of elbow grease, Kate
set about clearing the space, drafting in support from staff, volunteers and local businesses. The garden opened and now sees 2-3 patients daily for fresh air and fun with their loved ones.
Further anecdotal evidence of Kate's hard work is evident on Twitter from a quick search for #RehabLegend' as well and the accounts run by Kate and her team: @TantamKate @PlymouthICUReh1 and @Hovistherapydog
Case Study Resources
Watch the Presentation Here!