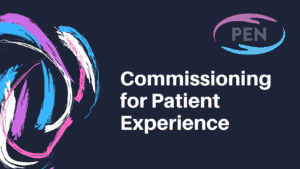 In this category, judges are looking for examples where commissioners have undertaken initiatives to better shape the experience of care. This includes examples where commissioners have worked closely with providers, focusing on a shared approach across the patient journey. Special attention will be given to those that have included the Patient Voice.
If you have examples of what good commissioning for patient experience looks like then why not put forward a submission now? What better way to acknowledge the great work of your team, share your good practice and gain recognition for the superb initiatives you have implemented?
This category is open in any organisation which commissions healthcare services or is involved in commissioning. 
PENNA 2022 – Commissioning for Patient Experience Winner, Runner Up & Finalists

PENNA 2021 – Commissioning for Patient Experience Winner, Runner Up & Finalists
PENNA 2017 – Commissioning for Patient Experience Winner, Runner Up & Finalists
PENNA 2015 – Commissioning for Patient Experience Winner, Runner Up & Finalists