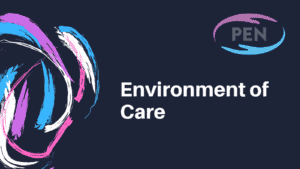 This category is for programmes aimed at providing the best possible environment of care – from first arrival/ impressions and throughout the care pathway. This can include the physical environment but also the emotional environment.
Potential Participants could be all organisations, including:
Artists and other dramatic arts
Architects/ Designers
Builders
GP Practices
Care Homes
If you have some examples of how you have improved your patients' experience through the environment of their care then why not put forward a submission now? What better way to acknowledge the great work of your team, share your best practice and gain recognition for the superb initiatives you have implemented?
PENNA 20-21 – Environment of Care Winner, Runner Up & Finalists
PENNA 2019 – Environment of Care Winner, Runner Up & Finalists
 PENNA 2018 – Environment of Care Winner, Runner Up & Finalists

Hospice UK
Fresh Eyes
WINNER
Download Presentation
University Hospitals of Derby & Burton NHS Foundation Trust
Sleep Kits
RUNNER UP
Download Presentation
Air Arts
Air Arts is TEN
Hywel Dda University Health Board
Mynydd Mawr Rehabilitation Ward
Download Presentation
Manchester University NHS Foundation Trust
First Impressions
Serco
Nobody is Just a…Empowering Support Staff
Download Presentation
 PENNA 2015 – Environment of Care Winner, Runner Up & Finalists