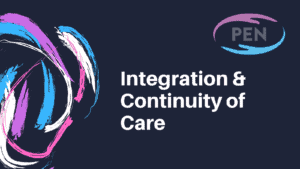 This category focusses on the new or improved ways of integrating and providing continuity of care between healthcare providers. This includes systems and processes to help provide continuity along the patient pathway, ensuring integration and continuity of care from one professional to another.
A key focus is bringing the experience closer to the patients' homes – this could be their actual home, their GP practice, community or local centres.
If you have some examples of how you have improved your patients' experience through improving the continuity of their care then why not put forward a submission now? What better way to acknowledge the great work of your team, share your new practices and gain recognition for the superb initiatives you have implemented?
This category is open to all.
PENNA 2022 – Integration and Continuity of Care Winner, Runner Up and Finalists
PENNA 20-21 – Integration and Continuity of Care Winner, Runner Up and Finalists 
PENNA 2019 – Integration and Continuity of Care Winner, Runner Up and Finalists                                                  
PENNA 2018 – Integration and Continuity of Care Winner, Runner Up and Finalists 
PENNA 2017 – Integration and Continuity of Care Winner, Runner Up and Finalists