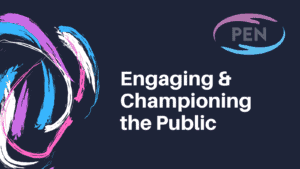 This category concerns programmes that strive to engage the public/ service users by listening harder to their needs or giving them a more active or involved role. This may be through highly effective or innovative engagement or shared decision making, translating what has been heard into meaningful action, or influencing other parties to change services to meet their needs.
If your team has achieved one of the above, then this is the award for you and is the perfect way to display your work and spread the word.
Potential participants could involve all organisations including:
Healthwatch
Patient Associations or Groups
Charities
Consumer groups etc.
PENNA 2019 – Engaging & Championing the Public Winner, Runner Up & Finalists
PENNA 2018 – Engaging & Championing the Public Winner, Runner Up & Finalists