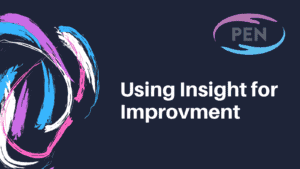 In partnership with NHS England, this category focusses specifically on the use of patient or staff feedback data or qualitative insight research to drive service improvement. We want to find and recognise the services and people who are making a real difference through their use of insight.
If you have used the Friends and Family Test and/or other feedback to increase transparency and/or involve patients in the shaping or their services, to drive real change and improvements, then this may be the category for you!

There will be one overall category winner, which scores highest in the opinion of the judging panel, chosen from the winners of the following five sub-categories:
Using Insight to Improve NHS-funded Services – Open to initiatives where the FFT, quantitative and/or qualitative methods such as surveys, focus groups, interviews or other patient or service user feedback is being used to improve NHS-funded services.
Using Insight to Improve Inequality of Care or Access to Services – Open to any service that has made a particular effort to use insight and feedback to help understand and address inequalities in NHS-funded service delivery, including by improving the experience of accessing services for people who might otherwise be excluded due to their age, language, literacy, physical or mental condition.
Using Insight to Improve Care Across Integrated Care Systems – Open to any initiatives that involve acting on feedback across organisational or pathway boundaries to improve NHS-funded services for patients.
Innovation in Insight – Open to any initiatives that have used innovative methods or approaches to insight to help improve care, such as using new insight techniques (e.g. original ways of collecting feedback), free text analysis (e.g. using machine learning or AI techniques), or "triangulation" of insight (combining different insight sources or types of data).
Using Insight from Staff Feedback – Open to teams or organisations who can demonstrate action on feedback from NHS staff – gathered through the Staff FFT, NHS Staff Survey or other individual, local or national insight activity – to deliver improvement.
This category is eligible to enter for NHS England ONLY, but does include anyone who has used patient or staff insight or feedback to make improvements to NHS Services in the UK.
PENNA 20-21 – Using Insight for Improvement Subcategory and Overall Winner, Runner Up & Finalists
PENNA 2019 – Using Insight for Improvement Subcategory and Overall Winner, Runner Up & Finalists
SUBCATEGORY – Accessibility of Services
SUBCATEGORY – Other NHS Funded       
 SUBCATEGORY – Integrated Care
OVERALL 2019 WINNER FOR INSIGHT CATEGORY  –  HEALTHY LONDON PARTNERSHIP
PENNA 2018 – Using Insight for Improvement Subcategory and Overall Winner, Runner Up & Finalists
SUBCATEGORY: Accessibility of Services
Royal Cornwall Hospitals Trust
The Success of Takeover Day
WINNER
Download Presentation
Ashford and St Peters Hospitals NHS Foundation Trust
What Matters to Me
Download Presentation
Hertfordshire Partnership University NHS Foundation Trust
The Broadland Clinic Carers Group
SUBCATEGORY: NHS Funded Services
SUBCATEGORY: Integrated Care
Leeds Teaching Hospitals
Making FFT Fabulous!
WINNER
Download Presentation
Manchester University NHS Foundation Trust
WMTM Patient Experience Programme
Download Presentation
St George's University Hospitals NHS Foundation Trust
New Beginnings
SUBCATEGORY: Staff Feedback
OVERALL 2018 INSIGHT WINNER: Nottingham University Hospitals NHS Trust, Chief Nurse Excellence in Care Fellowship Programme
PENNA 2017 – Using Insight for Improvement Subcategory and Overall Winner, Runner Up & Finalists
SUBCATEGORY: Accessibility of Services
Barking, Havering & Redbridge University Hospitals NHS Trust
Supporting Families after Bereavement – Daisy Centre�
WINNER
Download Presentation
Birmingham Women's and Children's NHS Foundation Trust
Listening to our Non-English speaking families
RUNNER UP
Download Presentation
Derby Teaching Hospitals NHS Foundation Trust
Flower Sculptures
Download Presentation
SUBCATEGORY: Outstanding Contribution
SUBCATEGORY: Other NHS Funded
St Mary's Sexual Assault Referral Centre
Bringing Information to Life for People with Learning Disabilities
WINNER
Download Presentation
NHS Blood & Transplant
Implementation of a Service for the Provision of Allogeneic Serum Eyedrops
RUNNER UP
Download Presentation
Nottingham University Hospital NHS Trust
Skin To Skin Jacket Initiative
Download Presentation
PPL & West London CCG
West London My Care My Way Learning Labs
Download Presentation
SUBCATEGORY: Staff Feedback
OVERALL 2017 INSIGHT FOR IMPROVEMENT WINNER:
Gloucestershire Hospitals NHS Foundation Trust, Small Steps, Big Changes