Knead to Chat
Leicestershire Partnership NHS Trust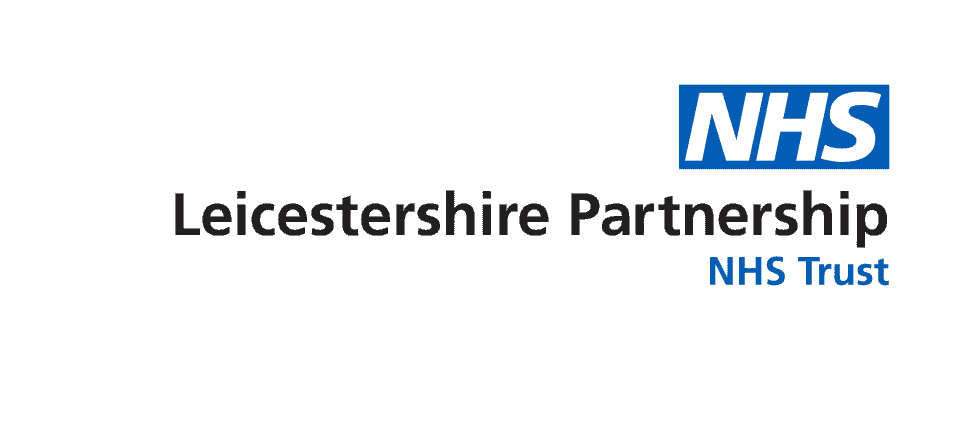 Contact: Alison Kirk: Alison.Kirk@leicspart.nhs.uk
General Summary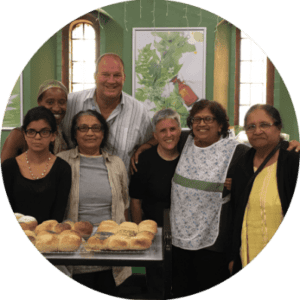 Knead to Chat uses therapeutic bread making activities to bring people together within the framework of the Five Ways of Wellbeing.
Connect – creating a safe, relaxed space for people to meet with others, helping develop a social network to support and enrich lives
Be active – encouraging connectivity and mobility providing an opportunity to get up on your feet and use energy in the kneading process
Take notice – baking bread is a mindful activity that gives times to reflect on what matters to you. Through conversation we encourage the sharing of stories, experiences and challenges
Keep Learning – learning new skills or rediscovering an enjoyable activity and using dormant skills. Either way it's a fun way to learn and build confidence
Give – home baked bread if a wonderful gift to share. To give something you have put time into making can have a positive impact on your well-being and help with good functioning.
A key element of the project is the development of volunteers to lead bread baking activities in the community. As well as enhanced bread making skills, we train and support volunteers so that they are able to stimulate thinking and discussion in groups.
Rationale
I found myself working in a high pressured, potentially stressful job and knew it was important to create time for myself and so I booked on a bread making course at a local cookery school.
At the same time I heard that LPT were looking for volunteers to bake with patients. After attending a workshop, where I shared my ideas on how we could use therapeutic bread making activities to improve health and wellbeing, the concept of Knead to Chat emerged.
The activity is aimed at people who have existing mental health challenges, and also people looking to bring a sense of wellbeing into their lives as a way of dealing with the stress and strains of living in today's modern world. We definitely see the workshops as 'preventative' as much as a 'cure'.
Planning
1 approach
6 volunteers
40 workshops
239 hours
278 attendees/conversations
over 950 loaves, rolls, pitta and pizza baked
As volunteers with the Trust we work with the Mental Health Transformation Team who have existing relationships with mental health service users and volunteers. Within this the Community Mental Health Team are already promoting the workshops as a holistic activity to support peoples' recovery plans and will help refer groups and individuals.
Broadly speaking Knead to Chat targets three different types of attendees:
Hospital based e.g. Inpatient Wards, LPT staff wellbeing events promoted through social media, quarterly newsletters, in addition to the project has featured on both local TV and radio
Existing well-being groups e.g. Age UK, Carpenters Arms (residential rehabilitation centre for men challenged by drug and alcohol addiction ), Home Start, local wellbeing cafes, Asylum Seeker and Homeless groups promoted by the groups themselves with their customer base and also through the use of social media
Local communities promoted through social media, libraries, local councillors and word of mouth.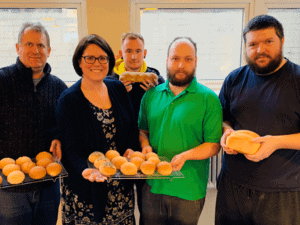 Each workshop has a minimum of 3-4 people, an average of 6-8 people and a maximum of 12-15 people. Our target was to deliver 20 workshops in 2019, we actually delivered 23 with a reach of over 150 participants.
Impact
Data is captured after each workshop in the form of 'numbers and stories'. Statistically we capture things like the number of people involved, the hours given, the amount of bread makes etc. We also collect feedback based on how the activity made people feel, but in many ways the most powerful data is the anecdotal comments which bring the feeling of wellbeing to life.
"How do I feel?? Overwhelmed, ecstatic, epic! This is the best I've felt since coming into the hospital."
"I would score my pizza 11/10. I only came down to get off the ward but I am so pleased I did. I never realised learning something new could be so much fun."
"A fantastic afternoon talking to other like-minded people with lived experiences about their mental health problems in a safe environment with being judged by other people."
Learning can be summed up in one sentence 'my persistence will always be greater than your resistance'. It's been a struggle at times but if you believe in what you are doing then anything is possible.
We now have a dedicated Facebook page where we have 115 members activity sharing their baking stories with each other.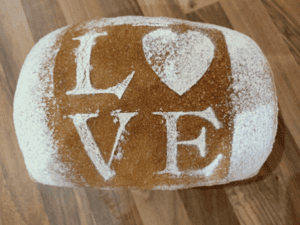 Relevance to Others
We bake regularly in the Bradgate Mental Health Unit, and have recently extended our offer to other areas such as Griffin Ward, Stewart House, Willows Unit, and as part of the staff wellbeing offer. In addition, we now bake with a day centre for homeless, and a centre for recovering addicts.
We run a closed Facebook Group 'Knead to Chat' which allows dialogue, Q&A's, photos of all events. People who attend workshops are invited to join and a number of them now make regular contributions showing how they have taken the skills they have learnt into their own kitchen.
We will continue to work with LPT and their partners to identify groups/individuals to involve. The workshops are open and accessible to all communities and have been designed to provide flexibility. They can easily be adapted and have been delivered to a number of diverse groups covering age, race, religion and sexual orientation.
The project can be delivered to any group. The flexibility of the model enables it to be delivered in a range of settings and with a range of groups, all you need is a decent oven and the right ingredients.
Over the last year we have delivered to a wide range of groups including homeless and asylum seekers, older people, those with drug and alcohol dependency as well as inpatient mental health patients and staff. The discussions that have arisen through running these sessions mean that the sessions can cover a wide range of things including:
Creating time for self, stress, anxiety, health issues, mental wellbeing and self confidence

Loneliness, isolation, social networking and activities, use of community and support groups
Abstinence from drug and alcohol use, disconnection from family and community services
Food awareness, diets, lifestyle choices and living with long-term health conditions
Standing Out
By aligning ourselves with the five ways to wellbeing we have a flexible project that not just provides people with a set of new skills it also provides a safe relaxed place for people to meet and talk.
We help people develop a social network to both support and enrich their lives and give each person time to reflect on what matters to them. Through conversations we encourage the sharing of stories, experiences and challenges. It's also an opportunity to engage the senses – particularly touch and taste. For some people baking bread is new, for others is rediscovering an enjoyable activity and using dormant skills.
Either way it's a fun way to learn and build confidence, and homemade bread is a wonderful gift to share with family and friends.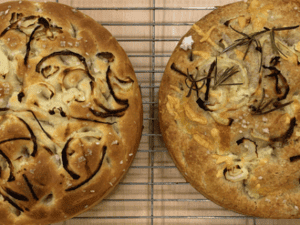 Key Learning Points
It's fair to say that we sometimes have to compromise the bread making process a little to meet the needs of an individual or group of people, who aren't always able to complete all of the tasks. We pride ourselves on being flexible to ensure that everyone produces something that both tastes delicious and that they can be very proud of.
You can bake anywhere you can find a kitchen. Our most valued piece of equipment is an oven thermometer!
Flexibility is the key and by working with our LPT colleagues who fully understand the needs of their service users we can confidently say that we can bake, and chat with anyone, no matter what their challenge.
Watch the Presentation Here!